Industries »

Aluminium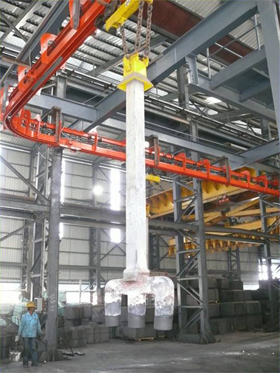 Wevin Private Limited (Previously known as Webb India Private Limited), has several years experience in providing turnkey solutions for aluminium carbon plants. Solutions include products and services – ranging from process machinery, aluminium handling systems and integrated controls to aftermarket maintenance and repairs – for the paste plant, baking furnace and rodding shop. With an experienced workforce and the most advanced technology in the market, Wevin is a leading provider for the leading Aluminium smelters in India and a few companies overseas such as Alcoa, BHP Billiton, Norsk Hydro, Sterlite and Rio Tinto. We work with the Customer to design a system that meets their specific needs. If it is a new facility or upgrading an existing plant, Wevin offer cost-effective products and services for entire carbon plant – from the paste plant to the baking furnace to the rodding shop.
The Advantages of working with Wevin:
Most experienced provider of carbon plant production systems in the aluminium industry Cost-effective solutions from a single-source provider that has resources all over the world Turnkey systems include combining material handling equipment with process machinery and integrated controls Most reliable and durable power & free conveyor systems available Top-of-the-line Automatic Guided Vehicles (AGVs) for heavy-duty loading and unloading of aluminium ingots or transporting of anodes Outstanding aftermarket service
Paste Plant
Power & free conveyors transport green anodes from vibrocompactors through the anode cooling tunnel and to the green anode roller conveyor. Only the anode itself is exposed to the cooling fluid bath. The operating components of the overhead conveyor system are located away from the coolant water to help extend conveyor life and increase operating efficiency.
Baking Furnace
Automatic stacker cranes, anode cleaning machines, lifting, turning and positioning devices as well as heavy-duty roller conveyors and grouping conveyors increase throughput and productivity in this harsh environment. When it comes to delivering baked anodes to casting stations, inverted power & free conveyors provide controlled accumulation and accurate pouring positioning.
Rodding Shop
Wevin manufactures and/or supplies process machinery for automatic load/unload stations, casting stations, shot blast units, stub heating, butt and thimble removal presses as well as rod repair operations.
Anode delivery to Pot Room
Wevin's rugged Automatic Guided Vehicles (AGVs) can transport fresh and spent anode assemblies to and from the pot room as well as take molten metal from the pot room to the casting house. Additionally, power & free conveyors automatically buffer the production capacity differentials between the rodding shop and the pot room.
Webb Aluminium Group provides the following products :
Automatic and semi-automatic load/unload stations
Overhead and inverted power & free conveyors
Heavy-duty roller conveyors
Anode grouping conveyors
Lifting / positioning devices
Carousels
Walking beams
Cranes
Automatic Guided Vehicles (AGVs)