About Us »

Company Profile
Wevin - Background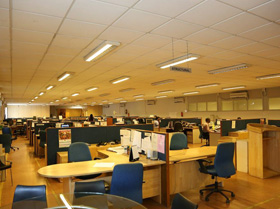 Wevin Private Limited (Previously known as Webb India Private Limited) was formed in 1994 as a joint venture company between Jervis B. Webb Company, USA and Vinar Systems Ltd. India. The basic thrust of the joint venture was to present a company which could offer state-of-the-art material handling technology to a wide variety of Indian industries. Wevin strategy is to combine the unequaled pool of technological resources available from Jervis B. Webb Company with the local Indian industrial and manufacturing experience of India's largest material handling supplier, Vinar System Ltd. This powerful combination enables Wevin to offer Indian industry a single point, turnkey, material handling system integrator. Wevin's business is to develop material handling systems for each customer according to his unique manufacturing environment, using world class material handling components as the system building blocks.

Wevin has built a staff of well qualified and experienced engineers who are able to analyze the material handling needs of the customers and develop material handling solutions that satisfy the customers' manufacturing requirements. Wevin staff is made up almost entirely of graduate engineers with expertise in mechanical design, electrical design or structural engineering.

In addition, Wevin design staff, administrators, sales staff, proposal development staff, project managers, procurement specialists and information systems staff are all from the relevant engineering disciplines. All drafting and design is done using Wevin networked AutoCAD stations.

Wevin approach enables them to draw from the technical and manufacturing resources of its parent companies, when necessary, but to provide Indian industry with systems that are developed and manufactured using almost entirely Indian industry resources. This combined with Wevin's own multiple manufacturing facilities, results in substantial cost benefits to our Customers.

As our customers' requirements for new products have increased, we have now changed the nature of our agreement with Jervis B Webb and have now become an independent and exclusive licensee for Webb products in India and its neighboring countries. By making this change in agreement, we are now open to ally ourselves with other experts worldwide to provide wider range of material handling products for our customers, while retaining our ability to support our customers with Webb products.