Products » Chain Conveyors »

Towveyor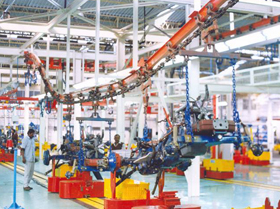 Our Towveyor conveyors provide high-volume, unattended material transport via tow carts, which move above in-floor tracks. Cart load surfaces can be customized to hold roller beds, turntables, tilt tops, and racks. The towline systems offer accumulation features, live storage, and automatic dispatching to accommodate a wide range of production-oriented environments. Applications include sorting, transporting, order picking, automatic loading/unloading, storage and retrieval interface, and assembly operations.
Towveyor features
Cleaner operation: No unpleasant fumes, oil deposits, or batteries to recharge.
Reduced aisle congestion: Moving along set paths, tow carts lessen traffic snarls, confusion and product damage while carts move to predetermined destinations.
Increased productivity. Tow carts pace material flow evenly and smoothly throughout the plant, reducing manual handling.
Heavy-duty load capacity. Cart capacities usually range from 400 to 2,000 pounds, but greater loads can be accommodated. Live storage.
Tow carts continually circulate to provide live storage during peak operating periods.
Towveyor towline conveyors represent one of Webb's earliest innovations. Introduced in 1946, this durable product line continues to offer reliable, effective performance today.
Today's models are far more sophisticated than their earlier counterparts, incorporating computer controls and other high-tech enhancements, but the original rugged and dependable engineering principles remain unchanged.
Webb Towveyor conveyors provide high-speed, unattended material transport via tow carts which move along in-floor tracks. Following set paths, tow carts lessen traffic confusion, reduce product damage, and allow unobstructed cross flow of fork lift traffic.
Industries
Automotive, Aluminium, Steel & Construction
Projects
Paint & Assembly lines in Automobile industries& Anode handling in Aluminium Industries.