Products » Chain Conveyors »

4" System

This is 4" Wide Wing Dog Magic Power & Free conveyor. These systems are mainly for automobile industrial applications like: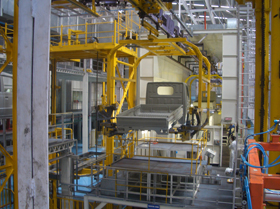 Engine Shop
Body Shop
Weld Shop
Paint Shop
Assembly Shop
Under 4" system we have 444 & 446 combinations.
4" I-BEAM POWER TRACK (For Over Head conveyor)
4" ENCLOSED POWER TRACK (For Inverted conveyor)
X-458 RIVETLESS CHAIN
4" or 6" CHANNEL FREE TRACK
Load carrying capacity of this system: 2500 lb (1140kg)
Specification
Conveyor with X458 Chain & rolled section tracks suitable for OH / INV
Industries
Automotive
Projects
Auto components and Auto Body handling across the automobile factory.