Products » Non-Chain Conveyors »

AS/RS
Automated Storage and Retrieval System(AS/RS)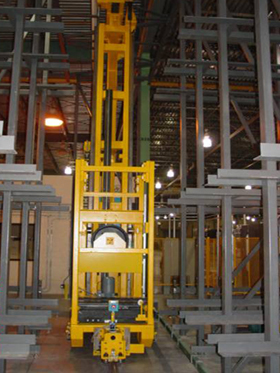 To ensure smooth flow of materials and efficient use of labor in manufacturing and warehousing facilities, Wevin offers Daifuku Webb's Automated Storage and Retrieval System (AS/RS). Our rugged, computer-controlled AS/RS provides precise, accurate tracking of loads and absolute inventory management. We have implemented innovative engineering techniques to produce a wide variety of automated storage/retrieval machines that improve the efficiency and productivity of transporting, buffering, and sequencing of standard and non-standard loads. Also its high-rise storage capabilities make optimal use of available floor space.
Specification
Storage automation with fast delivery & random selection advantages

AS/RS is built around racks, pallets, containers, and machines and is specifically designed to fit the customer's products and processes. This flexibility enables the system to meet the unique storage control and handling needs.
Benefits of this system:
Identification and validation of incoming material
Load sizing and weight check
Load routing and tracking
Inventory database management
Dynamic activity displays
Wevin provide industry-leading solutions, which are available in various configurations, depending upon the customer needs.
Micro Retriever: Designed for small & fragile part handling (capacity: 250lb)

Mini Retriever: Meets the needs of component, sub-assembly, kitting, and work-in-process buffering for modern factory operations. System control software packages are available for semi automated or fully automated warehousing distribution operations (capacity 750lb)
Unit Load Retriever: Unit Load Retrievers are excellent for high rise, high density storage system required by major manufacturing, warehousing and distribution center operations (capacity 1000lb).
Industries
Automotive / General
Projects
Logistics