Products » Non-Chain Conveyors »

Electrified Monorail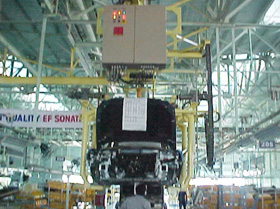 Electrified Monorail can be used in a wide range of applications including delivery assembly, and automated process applications.

There are many advantages of an Electrified Monorail Systems including
Reduced floor space requirements.
Reduced moving parts for safety.
Quick change of direction.
Clean and quiet operation.
Specification
Wevin Private Limited (Previously known as Webb India Private Limited) offers Webb's complete line of Non-chain conveyors including Electrified Monorail, Roller Conveyor, Skid Conveyor, Friction Conveyor, Skillet Conveyor along with AS/RS, Smart Cart System & Baggage Handling System.